Loyalty Rewards
How to save hundreds on your renewal, upgrades, and new tools.
It's simple. When you refer any new user to TOTAL, we'll credit your account for 50% of your friend's purchase — even if they add extra products to their software package.
Here's an example:
If one of your friends bought a TOTAL + Silver Membership for $648, $324 will be immediately credited to your account.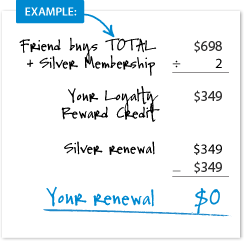 Here are some ways you can use your rewards:
Renew your Silver Membership for
Add Titan Analytics to your account for free
Get Titan Drive for $25
Upgrade to a Platinum Membership for 24x7x365 phone support
Get all TOTAL Connect Pro delivery plugins for free
Bring in non-lender business with an Appraiser XSite
Your Loyalty Rewards are unlimited and easy to redeem.
Log in alamode.com/MyAccount to keep track of your rewards. Or, call us at
1-800-ALAMODE and we'll be happy to cover your options.